Summer Term 2018
Jon Eggins Trust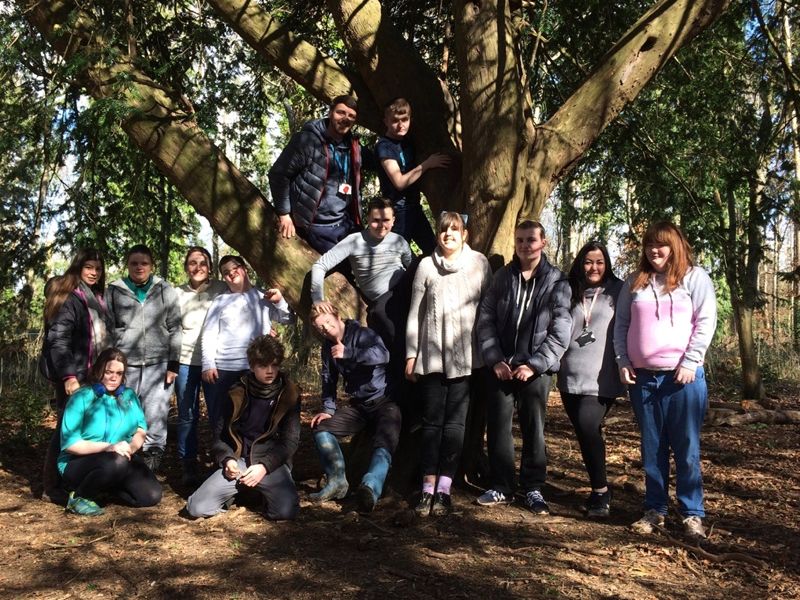 Ceint 2 have been working with Jon Eggins Trust on a 'Team Building' project. They had the opportunity to visit the RAF Valley Camp, 10 pin bowling, and den building with Wild Elements at Penrhyn Castle. Everyone thoroughly enjoyed the experiences.
---
Spring Term 2018
Treborth Botanic Garden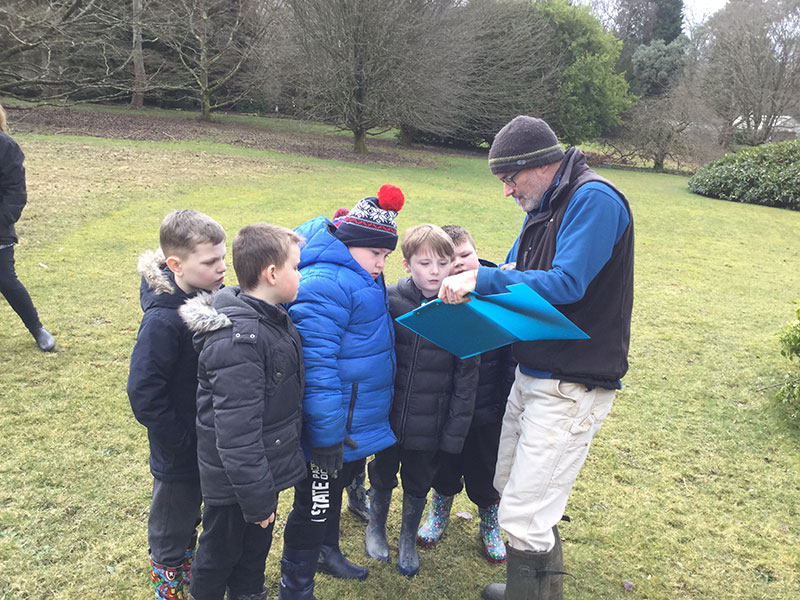 Cynradd 3b are given the fantastic opportunity to visit Treborth Botanic Garden, Bangor three times this year.
This is a funded project where the aim is for the students to learn and explore nature at different times of the year – winter, spring and summer. They will get to explore the grounds; taking photos, pond dipping, bird watching and going on a bug hunt.
Click here to see more pictures
Treborth Botanic Garden - Visit 2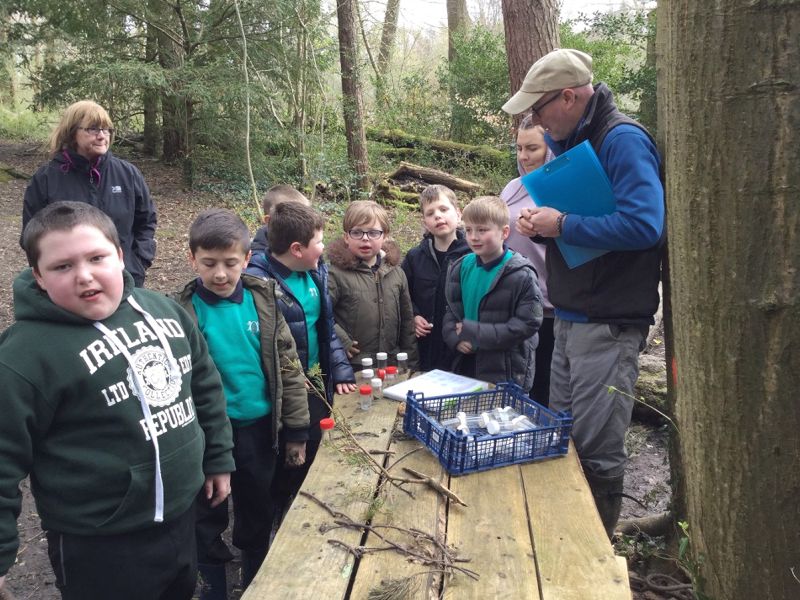 Cynradd 3b have been on their second visit to the Treborth Botanic Gardens. They went on a bug hunt in the forest, pond dipping as well as bird watching. This time they compared the results of what was discovered with the first visit. It was noted that more insects were found in the forest due to the weather warming up.
The boys love to explore nature and look forward to the third visit in the summer.

Click here to see more pictures
---
Summer Term 2017
Lead Creative Schools Project 2017-2018
Following our Lead Creative Schools project 2017-2018, the pupils have been working with Tom Cockbill from 'Wild Elements' to create an outdoor classroom. Hafan Y Bont is now a space that can be used for all aspects of learning.
The pupils have the opportunities to develop their senses by exploring nature, going on an adventure through the trees, bug hunts, listening to stories, art and music lessons, as well as developing literacy and numeracy skills.
Click here to see more pictures
---
Spring Term 2017
Kyffin Williams workshop
Pupils from Ceint 3 took part in a specially designed workshop to coincide with the new Kyffin Williams exhibition 'An Anglesey Sketchbook' at Oriel Ynys Mon.
The main aim of the workshop was to explore the use of the sketchbook and to understand why it is such an important and valuable asset to the artist.
The students had the opportunity to make their own unique sketchbook, then to draw in them whilst learning about the artist in a fun and relaxed way.
They had a great time and were given the opportunity to develop and broaden their young minds.
Click here to see more pictures
---
Summer Term 2016
School to School art collaboration project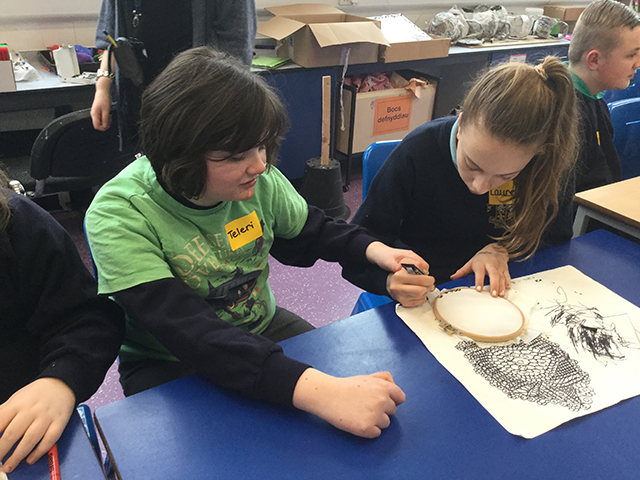 KS3 Pupils at Canolfan Addysg Y Bont and year 9 Ysgol Gyfun Llangefni pupils have been working together on an exciting art project in recent months.
Teachers agreed that art would be of great benefit to both schools, both for pupils and staff to create a link / relationship between the two schools. This provides opportunities for MAT year 9 pupils to collaborate with pupils from the Canol class, and by doing so, develop self-confidence, develop art skills, social skills and communication.
Basis of the project was to study the work of artist Marcia Baldwin, who has created a large colorful illustrations triggered by live-sharp.
They had a social session when they first met. Immediately, the pupils got on, chatting and sharing jokes, having fun and sharing stories. They then started working in the style of the artist.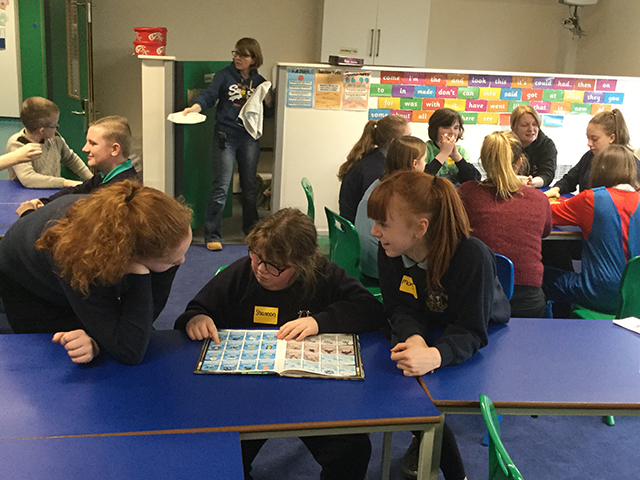 They went to Pili Palas, where pupils had the chance to draw life drawings of the butterflies and took pictures for future work on the project.
Subsequently the pupils have been visiting each other's schools, CAYB pupils love to go to Ysgol Gyfun, and the pupils from Ysgol Gyfun enjoy coming to the cafe for tea and biscuits in CAYB ! But above all, the effortless collaboration that is happening between pupils is worth seeing. They create amazing quality work.
They traced photographs, to create small shapes, and large abstract areas in order to create final plan to put on a series of silk screens. Using 'gutta' pupils have transferred the plans on the screen, and once it dries, use a special paint to pour onto the masterpiece.
The silk pieces will be sewn together to create more panels to be displayed at both schools.
Click here to see more pictures